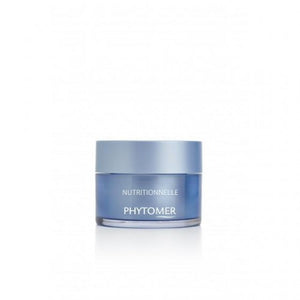 Phytomer Nutrionelle Dry Skin Rescue Cream
Phytomer
Regular price $128.00 Sale
This soft, rich cream incorporates a cocktail of marine and plant oils for bringing the ultimate comfort and repair for dry skin. 
Key Ingredients-
HYDRAFUSION: Hydrates the epidermis from its deepest layers right up to the surface, reinforces tight junctions and maintains hydration under any weather conditions.
Quartet of oils (Dictyopteris, Glasswort, Buckwheat, Apricot Kernel): Reinforces the lipid barrier by boosting the synthesis of lipids and reinforcing NMF (Natural Moisturizing Factor).
Ceramides: Restore the barrier function by filling in gaps in the skin's structure.
Skin Type
- dry, sensitive