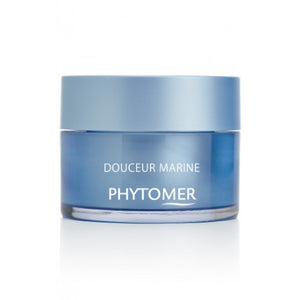 Phytomer Douceur Marine Velvety Soothing Cream
Phytomer
Regular price $126.00 Sale
A wonderfully soft "dream cream" for sensitive skin, this melt-on-the-skin cream, formulated with Marine Spring Water, leaves the skin supple and protected. It diminishes redness and soothes sensations of discomfort. 
Key Ingredients-
Marine Spring Water: Prevents the outbreak of skin reactions, and calms any associated redness or stinging.
Coralline: Calming, soothing, decongestant.
Skin type
- sensitive, dry,  dehydrated, irritated skin and rosacea-prone skin.