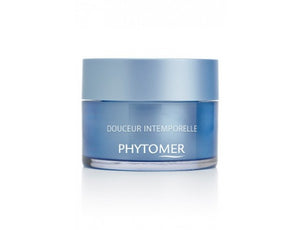 Phytomer Douceur Intemporelle Restorative Shield Cream
Phytomer
Regular price $138.00 Sale
Comforting with a heavenly light feel, this rescue cream strengthens the protective barrier of the skin to soothe and visibly preserve its youth. Its hypoallergenic "safeguard" texture provides instant comfort while conveniently covering red patches. Day after day, the skin is enhanced with timeless beauty.
Active Ingredients -
Glycosea: instantly neutralizes inflammation and strenghtnes the skin's capacity to protect itself on a daily basis.
Allantoin and vegetable squalane: Comforting and soothing actions.

Glycerin, provitamin B5, PCA and urea derivative: Moisturizing properties and strengthening of the barrier function.
Ceramides, shea butter and vegetable oils: Ideal lipid supply for a nourishing and lipid-replenishing effect.
Skin type
- ultra sensitive skin, rosacea-prone, irritated, dry.