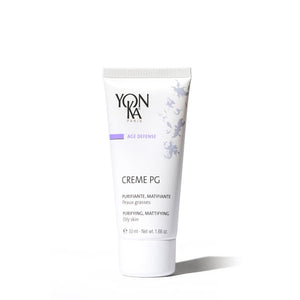 Yonka Creme PG - 50 ml
Yonka
Regular price $68.00 Sale
This mattifying, oil-control cream from Yon-Ka is the ideal make-up base and treating cream for oil rich skin.
helps absorb excess sebum and tighten pores,
helps control excess shine,
purifies,
refines and softens the skin
Key Ingredients- 
Bardane, Quintessence Yon-Ka (essential oils of lavender, geranium, rosemary, cypress and thyme): purifying, astringent
Climbing ivy: soothing
Vitamin E: anti-oxidant
Vitamin A: regenerating
Olive oil, soy proteins: protecting - repairing
Skin Type- Oily, acne-prone. Not suitable for those with seborrheic dermatitis.