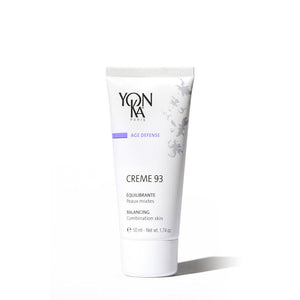 Yonka Creme 93 - 50 ml
Yonka
Regular price $72.00 Sale
This light balancing cream benefits from the seductive scent
of ylang-ylang. It is the ideal first cream for normal skin types. 
helps diminish excess shine in the T-Zone,
illuminates the complexion,
leaves the skin feeling velvety smooth.
Key Ingredients-
Essential oils of lime and ylang-yland + Yon-Ka Quintessence (essential oils of lavender, geranium, rosemary, cypress and thyme): purifying - balancing
Vitamins E, C: anti-oxidants
Vitamin A: regenerating
Olive oil: protecting
Skin Types - 12 - 35 year old, normal to combination skin types. Not suitable for those with dermatitis or rosacea-prone.