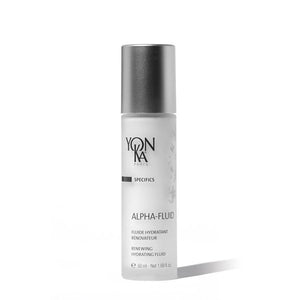 Yonka Alpha-Fluid 50 ml
Yonka
Regular price $94.00 Sale
During the day, the hydrating Alpha-Fluid has a renewing and revitalizing effect for softer and more beautiful skin.
Always protect treated areas with a sunscreen.
Key Ingredients- 
Renewing: AHAs (= fruit acids*) *Passion fruit, grape, pineapple (Alpha-Peel) and lemon, orange, sugar cane, maple, blueberry (Alpha-Fluid)
Regenerating by hydrating: mimosa tenuiflora
Hydrating: sweet almond peptides
Nourishing – Protecting: cereal germ oil
Skin Type- Ideal for ages 25 - 45.  Normal to dry skin types starting to look for more age prevention. Hydrating and lightly renewing with AHA's for a brighter complexion.