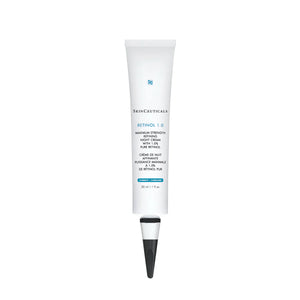 Skinceuticals Retinol 1.0
Skinceuticals
Regular price $114.00 Sale
A high-concentration pure retinol cream for experienced retinol users to improve the appearance of visible signs of aging and pores while minimizing breakouts. This is our best retinol for the body (excellent for body acne, scar management and skin aging except for neck and chest).
SKIN TYPES: Normal, Oily, Combination
SKIN CONCERN: Discoloration, Acne, Aging
FEATURES:
Retinol 1.0 is ideal for problematic and sun-damaged skin that has been preconditioned with the use of Retinol 0.5. Formulated with the highest concentration of 1.0% pure retinol, this night cream is enhanced with the latest stabilization and delivery technologies to ensure a steady, even release of the maximum available concentration. Retinol 1.0 is proven to diminish the appearance of fine lines, wrinkles, and skin discoloration while minimizing breakouts and the appearance of pores.
BENEFITS:
Promotes cell turnover
Improves the appearance of fine lines, wrinkles, discoloration, pores, and blemishes
Formulated to minimize irritation commonly associated with the use of a retinol face cream
Specialized packaging preserves retinol potency
Non-comedogenic, paraben-, fragrance-, and gluten-free
Ideal for skin preconditioned with Retinol 0.5