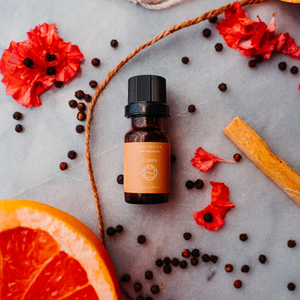 Lightwater Essential Oil Blend Create
LightWater
Regular price $34.00 Sale
Create is soft and feminine but also strong and vibrant, encouraging us to stop overthinking and begin being in the moment.
Encourages love and honour for the physical and emotional Self as well as fostering feelings of belonging and connection.
Ingredients
Grapefruit - Uplifting and energizing. Supports mental focus and a brighter outlook
Pink Pepper - Relaxing for muscles + stimulating for the mind. May increase alertness + improve stamina
Geranium - Balances feminine energy. Eases physical and emotional pain.
Cedarwood - Evokes feelings of emotional wellbeing, grounding and connection
Blood Orange - Boosts mood and relieves fatigue. 

 Size
10ml bottle with horizontal dropper
Chakra :Sacral Chakra - Svadisthana
Location: Between Pubic Bone & Bellybutton
Colour: Orange
Needs/Issues: Separation/Attachment, Exploration, Emotional Security, Stimulation
Affirmations: I move easily and effortlessly
Issues with this chakra may be seen via problems with the associated organs, like urinary tract infections and lower back pain.
This chakra is connected to feelings of self-worth around pleasure, sexuality, and creativity.
How To Use:
Add 1-2 drops to a diffuser ...
· before creative endeavors - music, design, creating of any kind
· to fill home with fresh aroma

Add to water for a fresh all-purpose cleaner

Add 4-8 drops to high fat milk or cream and then add to a morning bath to energize your day.
Use in the morning or afternoon to feel energized
Place 1 drop in palms and inhale deeply for an invigorating aroma
Product Care

Store bottle upright in a cool space out of direct sunlight
Safety
Keep away from children and pets. Consult your doctor if pregnant or breastfeeding. Avoid eyes, ears, and sensitive areas. Do not apply directly to broken skin. Stop use if irritation occurs. Do not ingest.
Some oils can make skin more sensitive to UV rays. It is advised not to expose skin directly to UV rays for 12 hours after topical application
As with all essential oils, never use them in the eyes or mucus membranes. Use caution when using undiluted. If applying an essential oil to your skin always perform a small patch test (after you have properly diluted the oil in an appropriate carrier) and discontinue use if irritation occurs.
All information on this site is intended for educational purposes only. This information has not been evaluated by the Food and Drug Administration or the Department of Health Canada.
This information is not intended to diagnose, treat, cure, or prevent any disease.