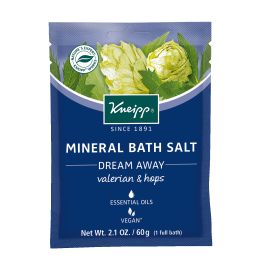 Kneipp Valerian & Hops Bath Salt
Kneipp
Say goodnight to restlessness! Kneipp Dream Away Mineral Bath Salt takes your night-time ritual to a whole new level of serenity. Pure, uncontaminated thermal spring salt sourced from Europe's only remaining open pan salt works combines with a special blend of plant extracts to deliver a bath that truly benefits your well-being.
The unique structure of the salt crystals naturally absorbs more essential oils than smaller grain salt to deliver a highly concentrated and effective bath infusion. When added to warm water, the soothing aroma fills the room and lasts the duration of your soak. Just one capful transforms your tub into a dreamy blue oasis. Known as a "wonder root" for its versatile benefits, Valerian essential oil combines with natural Hop extract to help melt away the stress of your day, inviting you to Dream Away.
Why It Works, Naturally.
CALMING – Renowned as a "wonder root," Valerian is widely used in teas and supplements to improve sleep quality. A Dream Away bath can help to calm your mind when your thoughts are racing so you can focus on what you really need, a good night's sleep.
DETOXIFY – Contains pure, uncontaminated thermal spring salt rich with trace elements and minerals to gently cleanse the skin and help support your body's natural detoxification process.
SUPPORT RESTFUL SLEEP – A warm bath with Dream Away Herbal Bath Salt will be your new favorite bedtime ritual. The powerful plant extracts work together to lull you into dreamland. 
Valerian and Hops is the perfect combination for those in need of a calming moment at the end of a long day. Help put your mind at ease to make room for a restful sleep with a bath loaded with valuable essential oils and their soothing aroma.
Calm Your Mind and Soothe Your Body
If our bodies don't get enough sleep over a prolonged period of time, they slowly start to break down physically and mentally. Sleep is vital to overall health and can even impact the health of your skin. 
With the perfect balance of aromatherapy, essential oils and colour therapy, a bath with Valerian and Hops bath salts create a holistic wellness experience.
Active Ingredients- ancient sea salts; valerian, hops, citronella, lavender, eucalytpus essential oils.