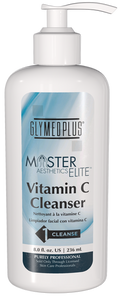 Glymed Plus Vitamin C Cleanser 8 oz
Glymed Plus
Regular price $60.00 Sale
Vitamin C Cleanser is an antioxidant herbal cleanser that refines and purifies skin. Vita
min C Cleanser purifies as it removes makeup, sloughs dead cells, and environmental debris. Great makeup remover.
Reduces Redness
Repairs
Calming
Healing
Reduce Inflammation
Skin Types - all skin types but particularly suited for sun-damaged, pigmented, dull and aging skin. 
Key Ingredients- 
PC10 Complex
Rose
Primrose
Shea Butter
Sunflower
Horsetail