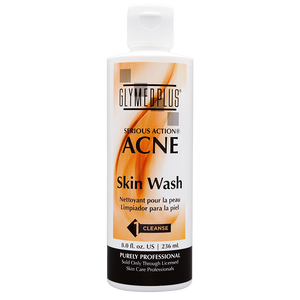 Glymed Acne Skin Wash 236ml
Glymed Plus
Regular price $60.00 Sale
Skin Wash is an extraordinarily effective acne wash formulated to achieve dramatic results with the ability to reduce and heal both inflamed and non-inflamed acne lesions. This cleanser oxygenates and detoxifies congested skin, while it soothes and heals with 2.5% Benzoyl Peroxide to specifically kill acne-causing bacteria.
Important directions for use: Can be used morning and night as a 2nd cleanse. Apply to palms and emulsify with water to create a foam. Gently massage onto the area to be cleansed, avoiding the eye area. Rinse with tepid water. Do not use as a makeup remover *Remove with white towels, Benzoyl Peroxide can bleach towels and sheets.
Frequently asked questions:
Will this product make me peel?
GlyMed Plus Serious Action Skin Wash is an active product with 2.5% Benzoyl Peroxide. It is not uncommon to experience some flaking or peeling when starting the use of this product. If it does occur, try using GM Collin Hydramucine Optimal Gel or Native Collagen Gel daily with your regimen.
GlyMed Plus has several cleansers in the acne line. How do I decide which one is best for me?
Because acne strikes both sexes and all age groups in varying levels, there is not one product or ingredient that works for everyone. GlyMed Plus has two cleansers for acne, one that contains the powerful ingredient Salicylic Acid known for its ability to break down the oil that is the fuel that drives the acne condition. The one that contain benzoyl peroxide, an ingredient known to create an active form of oxygen where the acne impaction occurs to control bacteria. Although both cleansers are effective and can be used by any acne or oily prone individual, the following will help you determine where you may begin: Inflamed or infected acne with Dry skin, we recommend: Serious Action Skin Wash Inflamed or infected acne with Oily skin, we recommend: Serious Action Sal-X Purifying Non-inflammatory acne with Dry skin.
Is this product safe for pregnant or breastfeeding moms?
While Benzoyl Peroxide can be used while pregnant, we always recommend consulting with your physician regarding recommendations.
Key ingredients: 
Benzoyl Peroxide
Aloe Vera
Orange Peel