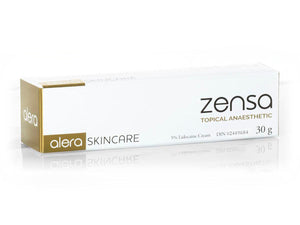 Zensa Topical Anesthetic
Alera Skincare
Regular price $49.00 Sale
Make a purchase from our Canadian brands in July and receive a ballot(s) for an opportunity to win a $400 gift basket of Proudly Canadian products! What are our Canadian brands? Adoreyes, Bathorium, Bend, Diamancel, Lightwater, enVY, Footlogix, GM Collin, Henson Shaving, Kaia Naturals, Patricia Miller and Zensa!
This Canadian-made lidocaine-based numbing cream is ideal to use before any waxing, electrolysis or laser treatments to reduce discomfort. For maximum numbing prior to treatments, cleanse the area to be treated with an alcohol swab. Apply Zensa Cream liberally but do not massage in. For body areas cover with a thin layer of cellophane or plastic in order to get maximum penetration of cream. Apply 30-40 minutes prior to treatment.

Also great for temporary relief of pain and/or itching associated with sunburns or minor skin irritations. Apply directly to the skin. For pain relief, apply a maximum of 3-4 times daily.
Maximum strength (5% Lidocaine). Lasts 2-3 hours. Safe to reapply after skin has broken to extend numbing sensation.