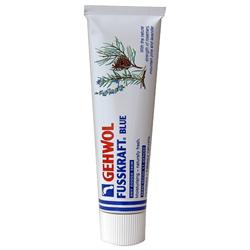 Gehwol Blue Foot Cream 75 ml
Gehwol
Regular price $20.00 Sale
Natural and skin-friendly lipids such as lanolin, moisturizing aloe vera and urea, care for dry, rough skin on the feet, restoring its elasticity, suppleness and smoothness. Gehwol Fusskraft Blue also contains tried and tested effective ingredients for the prevention of foot odour, helps to prevent infections and itching between the toes. 
Excellent for rehydrating toe nails after prolonged nail polish wearing.
The natural essential oils, invigorating camphor and cooling menthol relieve sore, aching feet immediately. Strengthens and revitalises the feet.
Active Ingredients: Skin friendly emollient emulsion, lanolin, glycerin, aloe vera, urea, oil of rosemary, oil of mountain pine, lavender oil, camphor, menthol, farnesol, climbazole