Whether you are 22 or 82, creating a full and curvy lip contour also creates a youthful, flattering appearance. Whether your lips are naturally thin or full, they can look great, as long as they are in great shape!  Dry, chapped or cracked lips are not only uncomfortable but they diminish your appearance and add to your age.
Understanding the cause of thinning lips
Whether you were born with thin lips or full lips, lack of understanding and care will make even fuller lips begin to thin. Here are the top causes of thinning lips:
dehydration - your lips do not contain oil glands that help to protect from moisture loss so dehydration happens quickly to this delicate skin. Dehydrated lips instantly look deflated!
sun damage - it destroys the skins

collagen and elastin fibres

which contributes to lines, wrinkles and loss of density. It also alters the DNA of your skin cells contributing to the formation of skin cancers.
extreme weather - quickly dehydrate, chap and irritate the lips. .
pursing or puckering - contributes to wrinkling but this habit also instantly makes them appear thinner. 
smoking...anything - contributes to the pursing and puckering as well as damaging the DNA of the skin cells and causing rapid aging.
aging - all of the above contributes to 90% of lip thinning, but  genetic aging will play a part, although small.
Top Tips for Plumping & Fullness
1.  Heal and Repair - Whether you want to plump your lips naturally or surgically, healing and repairing your lips first, will give you the best and most long lasting results. Using lip plumpers or having injections on dry, cracked or chapped lips guarantees poor results and healing.
 Our top picks: 
Sun damaged lips - Skinceuticals Anti Oxidant Lip Repair
Chapped lips - GM Collin Lip Balm
Prone to cold sores - Skinceuticals Anti Oxidant Lip Repair
Dry, irritated lips - Jane Iredale HydroPure Hyaluronic Acid Lip Treatment
2. Protect - your lips are very vulnerable to sun damage so be sure to use an SPF protection daily and don't forget to reapply.
Our Top Picks: all colours from sheer to deep of Jane Iredale Lip Drink SPF15
3. Use a Lip Plumper - an easy solution for thin lips. Most lip plumpers are designed to create a small amount of natural irritation to increase blood flow to the lips. Our top pick - GM Collins Lip Plumping Complex - also includes an important peptide complex that stimulates collagen and elastin repair plus microspheres of collagen and hylauronic acid for instant fullness. 
4. Colour Outside the Lines - Lip liners/pencils are top tricks for creating the appearance of fullness. For the most natural look choose a lip pencil in a nude or natural looking shade. Fill in your entire lip area with the pencil, then use your finger to lightly buff the product to help it stick to your lip and last through the day.
Our Top Picks - Jane Iredale Lip Pencil in Nude  or Rose 
Next, take the lip pencil and apply it just a little outside your lip line. Use a Q-tip or lip brush to soften the line so it looks more natural, and follow up with a lipstick in the same colour or a favourite.
Next, dab a cream-based highlighter like our top pick Jane Iredale GlowTime Highlighter Stick (choose a shade based on your colouring) just above the Cupid's bow of the upper lip line to create natural-looking dimension around your new lip shape. Next, apply in the center of the bottom lip to make it appear plumper. Blend both to create an illuminating effect.
For an even plumper look, dab a reflective gloss like our top pick Jane Iredale HydroPure Hyaluronic Lip Gloss  only in the center of your bottom lip.
5. Colour choice - If your lips are thin avoid dark lip colours. Lip colours in pink, peach and beige are best. Also avoid matte shades. If you have a favourite colour that is matte add a gloss on top to create fullness. 
6. Keep them hydrated - keeping your lips hydrated throughout the day can be done with or without colour.
Our Top Picks -
No colour - La Natura Lip Balm or Jane Iredale Lip Drink in Sheer
Sheer Colour - Jane Iredale HydroPure Hyaluronic Lip Gloss
Full Colour - Jane Iredale Triple Luxe Long Lasting Naturally Moist Lipstick,
 7. Last resort - if you have tried all mentioned ways to make your lips full, and you are still are not satisfied, then there are medical treatments you can turn to.
Dermal fillers are used for plumping thin lips to look smooth and full. Syringes are used to inject them in the skin. They are smooth gel made up of hyaluronic acid, a substance which is naturally present in our skin. The gel is injected just under the skin. The effect lasts for six months. As with all injections there are risks and potential side effects.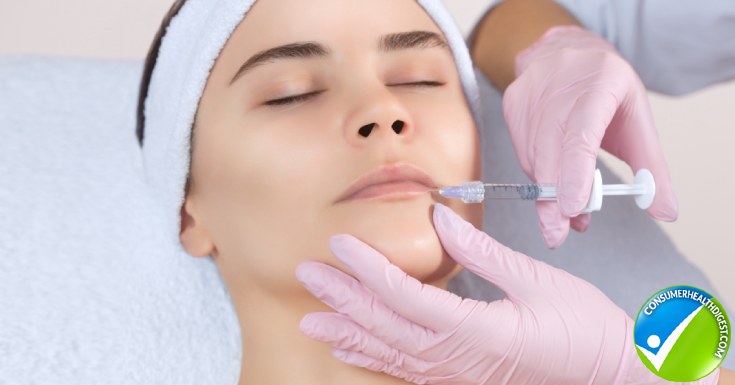 Need help choosing a lip wardrobe for a new full and curvy look? Or help with the makeup techniques? Book our Lip Colouring 101 30 minute makeup lesson with one of our Makeup Artists. 
Happy Plumping!