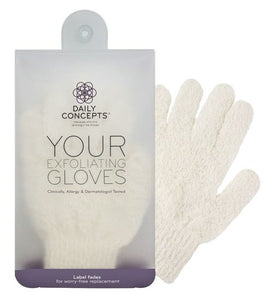 Daily Concepts Your Exfoliating Gloves
Daily Concepts
Regular price $20.00 Sale
Firm texture deeply exfoliates skin during a bath or shower.
This is what makes me unique:
Label with indicator that fades when it's time to replace Your Exfoliating Gloves.
Natural cotton base layer with nylon exfoliating loops for the ideal texture.
Clinically, allergy and dermatologist tested.
NOT TESTED ON ANIMALS. Cruelty free.
Made in North America.
Functional packaging (suction cup included).
Fabric: Cotton, Polyamide, Polyester